For a superb YouTube and Twitch streaming experience, you should consider looking for high quality streaming equipment. To get the best, you could try the equipment setup used by Summit1G, a full-time Twitch streamer.
In addition to having the streaming equipment, you should also learn how to set them up. The right setup will ensure each of the equipment efficiently performs its duty to give you an excellent streaming experience.
The best Streaming setup For your Money
There are a number of setups that you can adapt for your YouTube or Twitch streaming. However, we would recommend using the Summit1G equipment setup. All the equipment used is budget friendly and readily available in the market. It is also easy to set up; it uses the common tools with a taste of quality for each.
The Summit1G equipment setup includes:
Computer/PC Specs
Monitor
Headphones/Headsets
Recording Software
Microphone
Mouse
Keyboard
Webcam / Facecam
Scroll down and check them out.
Computer CPU/PC Specs
To connect to the internet, stream or upload vlogs, you will need a good computer/PC processing unit (CPU). The processing unit is, of course, a combination of a number of items.
For the PC specs, Summit1G uses a combination of:
Corsair Obsidian 900D PC Computer Case
It is an aluminum casing for housing the entire CPU to keep it secure. It can support Mini-ITX, MicroATX, ATX, E-ATX, XL-ATX, HPTX motherboards, one 140mm AF140L and three 120mm AF120L exhaust fan, 5 bays for the mounting radiator which are 45.25 inch, 15 fan mount locations and 9 tool-free 3.5″ and screw-in 2.5″ combo hard drive bays.
Find out the price and customer reviews
Intel Core i9-7900X Processor
It has great processing power and speed and can handle any amount of streaming. It is very fast, so don't expect your videos to lag during streaming, another good addition to the PC Setup.
MSI GTX 1080 TI SEA HAWK X 11GB Graphics Card
It is one of the best graphics cards you could get. It enables you to stream the highest quality videos comfortably.
MSI Gaming Intel X299 ATX Motherboard
The motherboard provides the interconnection between the various items in the CPU and the MSI Gaming Intel X299 ATX Motherboard provides great interconnections especially for gamers and streamers. It comes with an excellent cooling system which keeps the processor cool for efficiency.
Monitor
You require a great monitor for streaming since that is where you will see your streaming videos/vlogs from. You could have a great graphics card, but with a poor monitor, you won't be able to enjoy your video to the maximum or even edit a vlog for posting.
Summit1G uses the ASUS VG248QE Gaming Monitor.
ASUS VG248QE Gaming Monitor
In addition to the ergonomic design of the monitor, you are bound to enjoy the ultra-smooth action during streaming thanks to its 144Hz rapid refresh rate and 1ms (GTG) response time.
The monitor also features 4 modes of color selection and offers full HD 1920×1080 and 350cd/m² brightness.
Headphones/Headsets
As a vlogger or streamer, you will require quality headphones or headsets for listening into your recordings to ensure that the quality of their sound is top notch.
For clear sound effects, you could use a set of quality headphones/headsets like what Summit1G uses.
The pro streamer uses the Audio-Technica ATH-ADG1X Gaming Headset.
Audio-Technica ATH-ADG1X Gaming Headset
This headset incorporates an open-air design and produces unrivaled sound quality, especially in terms of clarity. Their design also makes them comfortable to wear and you can actually use them for hours without feeling disturbed.
The Audio-Technica ATH-ADG1X Gaming headphones provide an exceptionally accurate sound reproduction.
Recording Software
For you to record and edit your vlogs/stream, you will require an application (recording software) to enable you to mix your videos and voice recording superbly.
For high-performance real-time video and audio recording and mixing, you could use the OBS – Streaming / Recording Software which is the same recording software used by Summit1G.
OBS – Streaming / Recording Software
This is an open source application for live streaming and video recording. You can download it for free. There are different versions for Windows, Mac and Linux operating systems.
In addition to its high performance in real-time capturing of video and audio, you can easily create scenes from many sources like images, windows captures, texts, etc.
The application also has pre-source filters like noise suppression and noise gate.
Microphone
You will require a microphone that can naturally capture sounds while at the same time filtering sounds from the sides and the back so as to give your vlogs a quality sound. You surely want your viewers to understand what is being said in the vlogs.
For a quality microphone, you could use Audio Technica AT2035 Microphone, which is the same microphone used by Summit1G.
Audio Technica AT2035 Microphone
This microphone is purely designed for live performances with a switchable 80 Hz high-pass filter and 10 dB pad.
It has a cardioid polar pattern that helps in isolating sounds from the sides and the back and thus ensuring that only the desired sound source is captured. It also has a custom shock mount which still adds to the noise isolators.
Mouse
As a vlogger/streamer, you require a mouse that does more than just clicking and scrolling. You need a mouse that if possible has some mappable and added functionality buttons that you can easily use for editing functions.
Summit1G uses the Finalmouse Air58 Gaming Mouse In his PC setup.
Finalmouse Air58 Gaming Mouse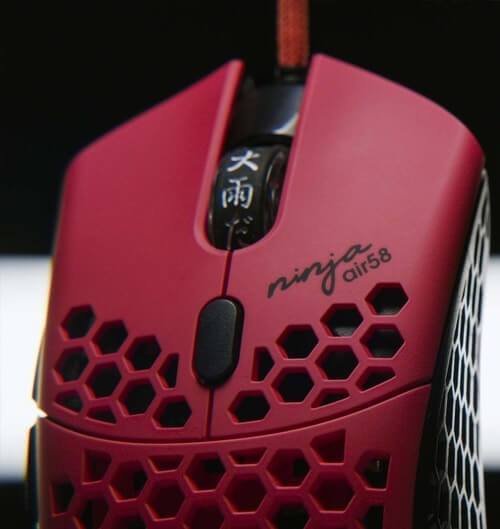 The mouse is only 58 grams; meaning it is very light and you won't tire your hand using it. It also has enhanced grip through some added lattice geometry.
It has additional mappable side buttons that you can assign for various editing functions. It also integrates with your computer drivers seamlessly to avoid lagging.
Keyboard
Vloggers/streamers need fast keyboards that have low keystroke activation. The faster the keyboard means that you will be able to quickly edit your videos and have them uploaded in time.
For a quality keyboard, you could use the CORSAIR K70 RGB MK.2 Gaming Keyboard, which is the same keyboard used by Summit1G who is a professional streamer.
CORSAIR K70 RGB MK.2 Gaming Keyboard
This is a compact rigid keyboard whose frame is made of aluminum giving it a lifetime durability.
It has 100% anti-ghosting with 104 key rollover on USB, which makes sure that all the keys are registered no matter how fast you key in parameters. It also has 100% CHERRY MX mechanical key switches that give you the necessary reliability and accuracy you require when editing vlogs.
Webcam
For real-life recording, you will require a webcam that is capable of capturing professional-quality videos. You could choose the Logitech C922 Pro Stream Webcam used by Summit1G, one of the best renowned YouTube and Twitch streamer.
Logitech C922 Pro Stream Webcam
This webcam is compatible with Windows 7, Windows 8, Windows 10, macOS X 10.9 and above, Xbox One, Chrome OS, and Android v5.0 and above. It enables you to stream and record HD 1080p quality at a rate of 30Fps-60Fps per 720P.
Apart from just recording, it also enables you to integrate any background scene and your live image onto your stream.
With this camera, you can also get quality videos even in poorly lit environments since it has a 5ft automatic light correction cable.
Why Summit1G is a Vlogging Hero
Who is Summit1G?
Before getting to why Summit1G is that famous, it would be important to first introduce who this Summit1G is.
Summit1G is an online nickname of Jaryd Russell Lazar, who is an American YouTube and Twitch streamer. He was born on April 23rd, 1987.
His net worth is estimated to be $6.5 million, with much of his income coming from subscribers, revenue, bits as well as donations.
Summit1G Achievements
Apart from streaming, Jaryd is a former player for the teams A51 and Team Mythic in the counter strike global offensive category.
Summit1G rose to fame by streaming WarZ and CS: GO.
He is also a renowned player of the famous GTAV, H1Z1, Sea of Thieves and PlayerUnknown's Battlegrounds. In fact, he has streamed a number of these games as he plays. He is known for professional streams of GTA V, Sea of Thieves, Overwatch, Fortnite, Apex Legends, and Escape from Tarkov games and this is what actually brought him to the streaming limelight.
His obsession with streaming is known to have started back in 2012 with most of his streams garnering more than 300,000 viewers on both Twitch and YouTube. For instance one of his latest stream, summit1g playing Grand Theft Auto V, that was posted on Twitch on 25th March 2019 made 344k views in just 21 days.
One of his best streams is the Mythic's run at ECS qualifiers in CS: GO, which got over 90,000 viewers.
He is one of the most followed streamers on Twitch with more than 3.7 million followers. As a matter of fact, between January and March 2018, Summit1G was the top most followed streamer on the platform.
He also has more than 36,000 Twitch subscribers.
Apart from Twitch, he also streams on YouTube where he has over 85 million viewers and 594,516 subscribers.
What makes Summit1G such a successful streamer?
To ensure that his streaming is top quality, Summit is known to put more emphasis on his streaming setup. He uses a very carefully selected gear that ensures that everything about any stream he makes is professional.
Streamers have actually capitalized on his streaming setup section which combines some of the best gadgets in the market to date.
Also, Summit1G posts his stream on a variety of streaming outlets, with Twitch and YouTube being his main fronts. These two are one of the world's best streaming websites and Summit1G is therefore assured of garnering many viewers on these sites as long as the quality is good.
Summit1G normally streams 8 hours a day 6 days per week. The only day that he doesn't stream is on Wednesdays.
Some of the things that attract viewers to his streaming are the quality of the videos and also the quality of the sounds. He is also very entertaining when it comes to the live commentaries as he plays and streams the games.