As we enter 2017, there's one thing that is almost as important as your talent when it comes to vlogging and it's having a good camera for capturing all you vlog.
Every Youtuber wants to be a successful vlogger and get the fame and recognition they deserve, but only a few have the persistence to fail-forward or properly decide on the best vlogging camera for their needs, one that they can capture their talent effortlessly. Researching vlog cameras takes up your valuable editing time, thankfully we have saved you the trouble, so let's take a look at the top cameras of 2017 to assess whether we need an upgrade.
A lot of people will give you a lot of advice – do this, buy that – but they are all just giving you the shine and not basing it on professional opinion. Buying a suitable camera appropriate for your particular need is the first step that you take towards your aspiring vlogging career. And, today, we are going to help you clear out the clutter and choose the best one.
Quick Overview
After checking out the 5 leading contenders, the Canon PowerShot G7 X Mark II is the best.
Top 5 Vlogging Cameras 2017
The following cameras were selected by considering every single aspect that is essential for vlogging. High-quality HD video capturing, sensor type and size, low light performance, autofocus, flip screen, after-effects, sharing, and tens of other features were analyzed to narrow down over 100 different camera models manufactured by different brands to these five.
There are mainly three types of vlogging cameras (point and shoot, mirrorless, and DSLR), but the following five were selected without considering their type or brand, that aside ensure you are looking at vlogging cameras with flip screen. Due to this, we have succeeded in concluding that Canon is the best vlogging camera manufacturer in the world.
Below is a great video by sawyerhartman and we really enjoy his style, it is nice to see these cameras next to each other to determine size and also a laymen's approach to price, size, and features.
There were 2 cameras mentioned in this video that we decided NOT to put on our list:
Canon 1Dx Mark II
Canon 1dx Mark II – Just too expensive and no flip screen
It didn't make it on our list of top vlogging cameras because the majority of vloggers cannot afford or justify paying $5000 for a camera, it is also very big, heavy and doesn't even have a flip screen!
Canon M5
The M5, good but just didn't make it on our list
The M5 is a good camera and we are sure you will enjoy it, mirrorless camera with lots of features, but it just isn't our favorite.
We are keeping an eye out for new camera releases, and monitoring camera rumor sites such as tech radar, we'll let you know if anything is worth sharing, but to be honest, the camera releases of 2016 are still going strong into 2017.
Best Vlogging Camera of 2016 / 2017 Review
Canon EOS 70D and 80D DSLR Cameras
Wherever you go, whoever you ask, or however you present your vlogging requirements – the 70D will always come recommended. It is packed with so many features that more than 40% of the top 30 YouTubers in the world use it.
It's best star feature is its incredible inbuilt Dual Pixel CMOS fast autofocus which enables you to shoot high quality (full HD 1080 progressive) images and seamless videos without any sign of blurs or spots, thus preventing any judgment of your photography skills. Plus, the support for all types of lenses helps you get any type of shot with great ease.
The Canon 70D has a 20.2-megapixel APS-C CMOS sensor, side-moving flip screen, 3x default optical zoom, 3-inch touch LCD with 10 million dots and 7 FPS shooting capability. It is perfect for creating action, lifestyle, and make-up vlogs so that you can serve crisp, colorful, and rich-looking videos to your viewers and ante up your appeal as a stylish vlogger.
It retails at around 1000 dollars on Amazon(you can get them cheaper if get deals and discount codes) so get it and start gaining those subscriptions. Casey Neistat, Tanner Fox, and Nigahiga are some popular YouTubers who prefer the 70D. Notably,
Having said all that, it is an advanced vlogging camera with a myriad of features meant for advanced users.
Now for the Canon EOS 80D: It is basically the same camera as the 70D, with some added features;
Slightly better in low light
Audio port to listen to your footage
Slightly different name
Bigger price tag
For a vlogging beginner, the Canon G7 X is arguably the better and the wisest choice.
Canon PowerShot G7 X Mark II – Best Point and shoot Camera 2017
Legendary Point and Shoot Camera – New Model
Also on our list of the top vlogging cameras of all time, the G7 X the original is considered a god in the video blogging sphere. It is so popular that every day, a new article about it pops up in the vlogging community.
Used by PewDiePie, RomanAtwood, Marzia, and Neistat, the G7 X boasts of fast autofocus ability, an inventive flip screen with touch sensors, 1.04 million dots, high-resolution, tip-top 20.1-megapixel CMOS sensor, and 8 FPS shooting capability.
A lot of websites term the G7 X as the best vlogging camera out there and the Mark II is the next level. Mostly because of its ingenious image stabilization feature which helps you reduce the blurriness from your images and videos, the best if you are into action and prank videos.

It also has one of the best articulating (flip) screens that flips up and tilts down at you, the Mark II is also known for its brilliant low light performance. As a vlogger in 2017, these two features will come in very handy, so why not go with this one? It retails at around under 700.
Samsung NX Mini Mirrorless Camera
Best known as the cheaper version of the G7 X and better looking. And if you love Samsung products that do not explode (did anybody say Samsung Note 7? Smartphone disaster 2016), then the NX Mini is your sexy vlogging cam.
FYI if you are looking for maximum value on a very low budget check out our list of Best Cameras Under 200.
It has a 20.5 megapixel CMOS sensor which provides top quality images and videos even in low light setups. A bevy of features like 3-inch touch flip screen, media sharing, automatic backup when you connect to your PC, remote viewfinder, WiFi, and NFC will enable you to capture great footage and get it directly on your PC for editing and uploading – wow..!!. But, what tops all of these features is its ergonomic grip – which is another one feature essential for a vlogger.
If you are looking for hassle free vlogging as you start up, we would recommend you to get the NX Mini. It can easily be bought for under $600 (the cheapest camera on the list) and just start shooting. No advanced adjustments, no scaling. Just switch on and shoot.
Canon PowerShot S120
Neistat once popularly called the S120 as the "almost perfect vlogging camera" and it almost broke the internet, until Kim Kardashian came in. Its interface supports over 30 different languages, which means it is directed at the entire world – 2017 is going to see a lot more international vloggers.
With 12.1-megapixel CMOS sensor and 5x optical zoom, you can capture high-quality videos and images with stereo sound. It allows you to zoom in while shooting and enables virtual upload through your Android or iOS device. The Canon DIGIC 6 image processor is one to die for, which automatically propels the S120 as a grandee in 2016.
If Sony's NEX-5RK looks expensive to you, then this is the best alternative for wide-angle shots. If you are into making science-based tutorials and want complete control of your setup just like Damien Chazelle did in his 2016 Academy Award-nominated film, La La Land, then this one is for you.
Buy it for just under 600 dollars. (Do note that Chazelle and his cinematographer DID NOT use the S120 to shoot the film. Filmmaking is a different game altogether, but vlogging is bridging the gap quickly.)
Final thoughts: Top Pick
If you want a camera that'll help you move forward into the future, I think you can get that shot with the Canon PowerShot G7 X Mark II. Of course, all the others above are great runners-up.
But let me sum up my best reasons for choosing this Canon shooter.
It sports an FHD (full high definition) 1080p resolution, which I think should be the minimum requirement for any top-notch camera.
The camera quality itself is pretty good.
It's lightweight, so you won't have a hard time holding it up for extended periods.
It's pocket-sized, so you can bring it wherever and whenever you please.
Its price is also quite pocket-friendly.
Want a vlogging camera that's future-proof? Then be sure to choose one that packs the essentials along with innovative features!
Good Cameras from 2016 Honorable Mentions
While preparing this list, we came across several vlogging camera models which gave tough competition to our final selections. Other top picks of 2016 / 2017 are:
Canon PowerShot ELPH 340 HS
---
Sony CyberShot RX100 III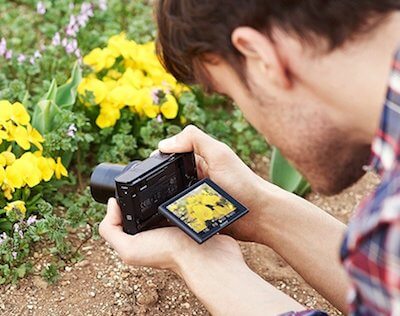 GoPro HERO5 Black
---
Best Action Camera, So Much Fun Filming With This Camera
---
Canon VIXIA HF R700
Good, Easy To Use And Cheap
---
Polaroid Cube HD
Grooviest Camera of 2017 – Polariod Cube HD
So, if you have heard about any one of these 5, then do understand that even they come recommended, but only second to our original five. Happy vlogging 2017!
Vlogging Camera Statistics 2017
Almost all of the five vlogging cameras listed above are used by the top YouTubers and best (most popular) vloggers in the world, click to read our findings on what camera youtubers use. They have used them for years, continuing into 2017, YouTubers have recommended them to their fans countless times. As a matter of fact, their repeated use and subsequent best recommendation have indeed catapulted the popularity and sales of these specific camera models.
We don't really know if the brands got in touch with the vloggers and requested them to use it, but whatever played in the backstage has worked tremendously. Along with Canon, we have Sony and Samsung completing the list of the top 3 camera companies.
Panasonic, Logitech, GoPro, Polaroid, RED, and Blackmagic are other brands that also make brilliant cameras, but their models failed to make it to this list just because these cameras are awesome…!!
Buy any one of these, an action vlogging camera from 2016 and a smartphone from 2017. You won't need another vlogging camera, unless… You are thinking of moving into VR 360 interactive videos – we will explain later, it is very cool stuff coming up for 2017, a completely new way of vlogging.
Camera Conclusion Starting 2017
These are the 5 top vlogging cameras 2016 / 2017 from that we think are best and will give good value for your money in 2017. No matter which level of vlogging you are; beginner, intermediate, or advanced, these five models are for everyone.
There are many other vlogging cameras with extra features that may be helpful for certain type of video making, but we made this list from a general perspective. Once you start vlogging from any one of these and get acquainted with your own process, you will be able to make better choices.
Till then, these vlogging masterpieces are the ones you should count, keep an eye out for our new release articles, there is amazing cool new VR software coming up in 2017 super cool stuff.