It's the end of Fortnite's Fall Skirmish, and twitch streamers certainly are having the time of their lives.
Tfue just earned a massive $255,000 in a recent competition, however, that's only pocket change after winning 1.5 million last year on a single tournament!
Ninja earned over $712,000 dollars from subscribers in 1 month.
Dr. DisRespect is rumored to earn around $1,500 per day, solely on donations. When he is not getting banned!
On top of that twitch streamers earn 50% on ad revenue on their channel. And if you are one of the top earners, your percentage goes up.
How about a sponsor paying $1 million for 1 person to play their game for only a few hours, WTF!
You can make money from people sending you cryptocurrency emotes, and to top it off you can make a killing selling merchandise on your channel.
You got to love Twitch!
Twitch has so many ways to make money, and if you stream well, the money is crazy! In this article, we breakdown the following:
How much do twitch streamers make and how
The 10 of the top twitch streamers earnings.
How much do twitch streamers make and how
Let's take a quick look at how twitch streamers make money and how much you can make.
How much do twitch streamers make per donation?
Almost all money given by donations goes directly to streamers' pocket. Twitch may take 1% or so, but that is a really minuscule sum.
Donations depend completely on the viewers, some will not send you any and some streamers seem to have their viewers throwing money on them.
It's rumored that Dr. DisRespect earns around $1,500 per day, solely on donations. So, it can literally pay to keep your subscribers entertained.
How much do twitch streamers make per bit and cheer?
Here, we have another kind of donation, a virtual currency. You can purchase them on the Amazon, in the form of an emote or animation. Every streamer has an option to set his own customized emoticons. Streamers will get 1 cent per bit/cheer. They are paid out once streamer obtains 10,000 (100 dollars) of them.
How much do twitch streamers make per ad?
Every time you start watching a Twitch stream, an ad will be played. Furthermore, streamers who became an affiliate with Twitch also have a special button that lets them play a 30-second ad whenever they want.
What is the CPM on Twitch?
CPM (cost per mile) shows how much a streamer will make per 1000 viewers. It can vary from anywhere between $2 and $10 depending on the time of the year.
Last 4 months of the year are generally the most lucrative. Lately, how much twitch streamers are earning through ads has dropped, because a lot of followers began using an ad blocker.
How much do twitch streamers make per sub?
This is where things get interesting. If somebody likes your stream, he might buy a subscription for $5. A subscription gives followers some cool things, like a sub badge, special emotes, etc.
Twitch will take 50% of this money from each subscriber, so you will be left with $2.5. If you are a top-tier partner (above 10,000 views per stream) though, you will be getting anywhere from 70% ($ 3.5) to 100% of the revenue.
You got to keep in mind that this is a recurring income, so the money will begin stacking quite fast once you get a breakthrough.
How much do twitch streamers make per 'prime' sub
If you have an Amazon Prime account, you can link it to your Twitch account and thus upgrade it in Twitch Prime. This is great, as it will give you 1 free subscription per month, while your favorite streamer gets the same amount of money as from the regular subscription. This is what I call a win-win situation.
Sponsorship
With sponsors, this can be the game-changer in terms of income, especially for very niche specific streamers who may not have a huge following, but their audience is very specific and valuable to specific brands.
There are many ways in which you can get sponsored: sponsored clothing, sponsored gear, product/brand mentions, using their computer gear, YouTube video, live events, tweet or even an Instagram post. Another very lucrative deal is doing a sponsored stream.
What is a sponsored stream?
A sponsored stream means that you will be paid just for playing a game. When Battlefield 5 was coming out, EA paid all the top streamers to play it in order to promote it.
Depending on the popularity of the streamer, the hourly rate ranged from 1 cent to 1 dollar, per viewer! Some of the streamers easily racked up over 10,000 viewers per hour. Talking about a dream job…
Sponsored YouTube video prices go around $5,000 per video with a 30-second ad.
Live appearances on events range from $5,000 to $10,000. Tweets and Instagram posts are usually tied to the bigger deals, so I still don't have info per post. And Ninja hasn't responded to my emails. Yet 😉
Tournaments
Many of streamers on Twitch are incredibly skillful. Some of them play professionally, for e-sports leagues, etc. These are planetary popular online competitions that are even watched on television. And, if you manage to get to the top, earnings are pretty good.
For some streamers, like Kuroky, this is their main source of income.
He has around a relatively low following on Twitch compared to some of the other big names, but he is crushing it in tournaments, he has pocketed over $2 million for a competition and is officially the highest earning tournament player as of mid-2019.
Merchandise & in-game items
Selling merchandise is, surprisingly, not as popular, unless you are really interesting and your name becomes an identity symbol.
Some streamers, like Dr. DisRespect, earn good coin selling t-shirts and other clothing apparels. Streamers can also decide to stream games that are available for purchase on Twitch. Both Twitch Partners and Affiliates will earn a 5% share if somebody purchases something through your channel page.
How much do Twitch streamers make per year?
Now, let's take a look at what some of the most popular Twitch streamers are earning per year. Prepare to get your mind blown.
Top 10 Earning Twitch Streamers
According to our sources, these are the streamers that earned the most money in 2019.
1. Tfue
Climbed to the top of the tree at the moment, we have Turner Tenney, better known by his stream name Tfue. In less than a year, his monthly earnings went from $7,215 (April 2018) to $ 130,438 (May 2019).
You could make a claim that he is currently one of the best players of Fortnite.
Subscription-wise he earns about $ 1,000,000 a year. Tfue also earns plenty of money from sponsors like Digital Storm and Gld, around $200,000 per month.
Epic Games also released the "support a creator" feature in Fortnite, which gives a chunk of earnings to streamers every time their supporters spend some V-bucks. This feature earned him an estimated $800,000 – 1,000,000 in just one month!
There is no surprise that Tfue can afford such a killer setup. Combine all of this with numerous donations, and his estimated yearly revenue (not counting YouTube money) easily climbs over $14 million. an The scary thing is, he is just getting started…
2. Ninja
Ninja's combination of engaging personality and skillfulness quickly amassed him quite a following (around 14 million). If you are into Fortnite, you have probably watched numerous of his streams in awe.
Apex legends paid out around $1 million to Ninja for playing the games for the first few hours of the games release date. And in return they got over 10 million signs up from it, its what you call a win-win.
He is the most famous gamer alive, with over 14 million followers on Twitch. At his most popular, Ninja earned over 712,000 dollars from subscribers alone in a month! From sponsors like UberEats, Budweiser, PSD and the massive Red Bull deal, he earns an additional $3.5 million.
Ninja's 2018 Twitch revenue was estimated to be around $8 million, and with YouTube, it climbed to nearly 15 million! Gotta admit I am just a tiny bit jealous of this fella.
3. Shroud
Shroud is a popular Canadian streamer, who started as an eSports gamer in the Cloud9 organization. As a Counter-Strike player, he has earned over $ 200,000 in various tournaments.
He saw a huge opportunity in Twitch, and he left Cloud9 in August of 2017 in order to become a full-time streamer. Today, he has almost 6.5 million followers and is doing better than ever.
In March of 2019, he earned almost $300,000 just from subscribers alone! His yearly revenue is estimated to be around $3,193,097. If you want to know what he has on his desk, you should check our setup article.
4. TSM_Myth
This is not just a Fortnite list of streamers, I swear! I am just following the numbers. Ali Kabbali, better known by his nickname Myth, is yet another streamer who fell in love with this game.
It earned him a large following, for which he earned $580,117 just from subscription alone. His yearly earnings are around $1,330,280, which is quite impressive for a 20-year-old.
5. Summit1g
Next on the list, we have Jaryd Lazar aka Summit1g. Before getting into Twitch, he was a competitive Counter Strike player and a part of a Team Mythic. Nowadays, he streams a wide variety of games like Destiny 2, CSGO, Real Royale, and other.
By a conservative estimate ($2.5 instead of $3.5 per sub), he is currently earning $52,500 per month. Donation wise, he earned over $208,000 as of 2017. When we add everything together, Summit1g has an estimated net worth of 7.5 million dollars.
6. TimTheTatman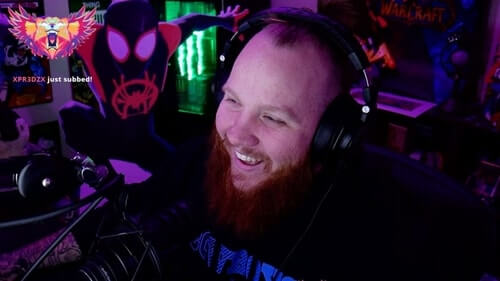 TimTheTatman is a 29-year-old gamer coming out of the US. He is one of the more entertaining streamers and has over 3,745,500 followers. Followers take delight in watching him play games like CS:GO, Overwatch and World of Warcraft.
Last year he earned $1,802,598 solely from subscriptions, which makes him one of the fastest rising twitch stars. With a total of $2,770,287 earned in 2018, Tim surely isn't messing around.
7. Dakotaz
Dakotaz is a popular PUBG and Fortnite streamer. He jumped on the Twitch train in 2013 and has been steadily growing since.
He has 9,451 subscribers which amount to around $33,000 per month. His estimated yearly subscription revenue in 2018 was $180,000. He earns a big chunk through Fortnite's support a creator feature, but I couldn't find just how much. Dakotaz's net worth is over $2 million.
8. TSM_Daequan
Daequan Loco is a second streamer from this list that comes from a world-renowned TSM clan. Currently, he is focusing on playing Fortnite, a game in which he is very proficient.
He is also a member of Team SoloMid, which has some of the best players of this Battle Royale game. In 2018, he earned around $750,000 just from subscriptions alone.
Daequan also has many lucrative sponsorship deals, with brands like Logitech, Geico, HTC, Dr. Pepper, and similar. He is currently living in Florida and has a net worth of over $4 million.
9. Dr. DisRespect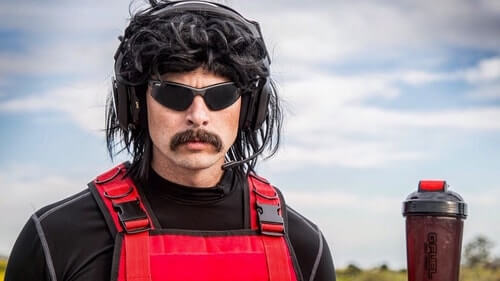 When Guy Beahm decided to become a cyber-tech Borat, his whole life changed. These days you can watch him demolish teams in Apex Legends, going by the name of Dr. DisRespect.
He has over 25,000 subscribers, which gets him $1,055,822 per year in subscription revenue only. He also gets an additional $600,000 from sponsors (G-Fuel, Turtle Beach …). Donation wise, it's estimated he gets around $1.5 million a year, and we shouldn't forget his merch.
All in all, his estimated earnings per year climb over $3.6 million.
10. Dr. Lupo
Dr. Lupo earns his bread by concentrating solely on the PUBG and Fortnite niches. He played many games with Ninja, which made his Twitch channel skyrocket.
His followers are measured in millions, and he earns $1,091,241/year through subscriptions alone. Donations are another big source of his income and are estimated to be above $1 million.
It is only an estimate, but I think it's safe to say that Dr. Lupo's yearly revenue is cruising above $2.5 million.
11. Kuroky
And let's not forget Kuroky, Smashing through tournaments, and yet being relatively quiet on twitch, only having under 20k followers compared to Ninjas 15 million. Who knows what he can achieve with a bit of marketing spin and a Redbull stream room. A good example of skill bringing in the money.
Summary
As you can see, it is possible to make more than a decent living on Twitch. What's crazy is that this platform is still growing every day, and with it, the revenue rises.
Who knows its true potential! So, there is still a lot of time to hop on board and make some money doing the things you love.
Of course, not everything is about the green paper. Twitch is also about building a community, strengthening the relationships and having good ol' fun. It's a place where you can show all your quirks and be yourself.
You don't even need to have ultra good PC to become a streamer. To start, simply read our guide on Twitch Streaming, buy a solid mic and a webcam, and you are good to go. Who knows, you might just be the next big thing.
How to get started making money on twitch
Twitch streamers have various different sources of income and most of them are available only if you become an affiliate. To do that, you will need to meet these criteria:
Stream for more than 500 minutes in the last month
Stream for at least 7 days in a month
Grow a following of 50 people
Get an average of 3 viewers per stream
Once you become a Twitch Affiliate, you will be able to earn money through subscriptions, bits, ad revenue, and selling merchandise from your Twitch page.
If you are just getting started, I recommend you check our article "Ultimate Guide to Twitch Streaming".
Or if you are ready to buy a solid streaming setup, take a look at the setups used by the top streamers.