Get ready for an exciting and informative trip to the world of webcams well designed for streaming on Twitch, Youtube, and other platforms. There is no point buying a sub-parr camera, so let's find the best webcam for you. 
quick Overview: top Choice
After reviewing a number of webcams, the best for streaming on twitch is the Logitech BRIO – Ultra HD
Why webcams are the best for streaming…
Basically all successful streamers film their face, even if you want to stream casually, a webcam is still important for viewer connection. Since the point of streaming is to allow others to connect with you, we definitely recommend that you do the same.
Now that we have that clear, let's discuss whether you should go for a camera or webcam. Not advocating against cameras or anything, but the fact that big Twitch names such as Ninja and Tfue used webcams instead of cameras speaks for itself.
Sure, now that they are sponsored by massive companies with a top of the range 'stream room' they do have cameras around them. But until the day you get the call from Red Bull, we recommend you focus on getting the best webcam for your money.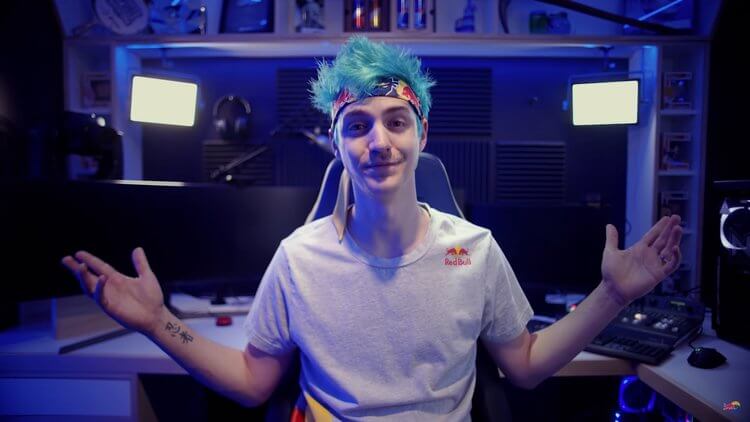 Webcams aren't that much different from cameras in terms of output quality. Finding a webcam that provides 1080 HD video won't be that difficult even if you have a mid-range budget. Also, most of them have built-in microphone that can serve as a backup in case your primary microphone stops recording.
For people looking for a minimalistic setup, cameras won't do you many favours as they take up a lot of space. On the other hand, webcams are small, lightweight and fit anywhere, you can rest it on your monitor with no problems. Try doing that with DSLR! Because of these reasons, you should definitely consider going for a webcam.
Webcams used by the best live streamers
Live streaming isn't limited to playing video games – there is much more depth into this realm that many people have yet to explore. In the past few years, live streaming games became a big thing and a lot of gamers started joining streaming platforms to make some cash doing what they love. The audience is increasing and so are the payouts to streamers.
It hasn't been long since we started recognizing and celebrating live-streamers for their content. On streaming platforms like Twitch and YouTube, we can see a bunch of categories including IRL, podcasts, music production, and even cooking. It is great to have different genres of live-streaming but in most cases its essentially just a person sitting in front of their webcam!
You just can't go wrong with a Webcam, so let's get started with our list of top webcams for streaming.
Logitech BRIO – Ultra HD (Top Pick)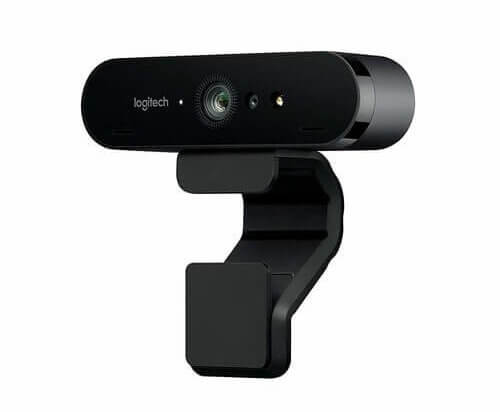 This webcam is an absolute beast for all the gaming streamers out there. In fact, the biggest Fortnite streamer on Twitch and former Ligma victim, Ninja himself has it as a part of his equipment (Click To See Ninja Setup), which further solidifies the authenticity of this product. Not only him but other big Twitch names like Tfue, Sceptic, and CouRage have it in their inventory as well.
Enough of the introduction, let's dive into its specifications now. As implied by its name, the product supports Ultra HD video with a 4K image sensor. So, if you're looking for the best video quality, then this webcam is surely it, chief! Camera-enthusiasts would know that the age of plastic lenses is long gone. If you happen to agree with this statement, you're in luck as this camera features a premium glass lens.
This webcam also has Auto-Focus. I know cheaper webcams have it as well but you'll really notice the difference in accuracy – there's a reason Logitech have an edge over other companies in the tech industry.
Although this option could be a bit more expensive, remember that you're getting one of the best webcams out there in return. So if you hit it big on Twitch, you'll be glad you bought it.
Logitech C922x Pro Stream
Another Logitech product? Why, yes. Although we're not affiliated with the company, it's simply impossible for us not to embrace the fact that Logitech currently rules the streaming webcam game. Whether it is Youtube or Twitch, you'll find users of this webcam on all platforms.
A number of Twitch streamers such as Summit1g, Myth, and JeromeASF are fans of this product. So, if you want to have a better look at this webcam, your best bet will be to check out their Twitch channels (but only after you're done reading about its specifications here on VloggingHero).
Before we begin with its specs, I'd like to make one thing clear – this model doesn't support 4K recording. So, if you're cool with 1080p video quality at 30 fps (which is fine considering Twitch does not support 4K streaming), let's continue! Just like its other sibling above, it comes with a glass lens and offers Auto-Focus. You also won't feel a great decrement in the video quality even if you're recording in low-light conditions thanks to its automatic light correction feature.
Best Feature – background removal
YouTubers would know how often they have to remove their backgrounds from their videos manually. If you're tired of this hassle, listen up! Logitech has integrated background replacement technology into this webcam, which eradicates the need to set up any additional equipment just to get your background removed. This is a feature that not many webcams or cameras have, making C922x Pro Stream the best webcam for YouTube in my opinion.
Mevo Plus
As I mentioned earlier, there is more to streaming than just gaming and the makers of this webcam seemed to cash in on this fact. IRL streaming is really popping these days as more people are starting to develop interest in showcasing whatever's going on in their lives. As you would guess, the audience is loving this concept as well.
With Mevo Plus, you will be all set to start your own IRL streaming channel. The webcam has an avant-garde style and is quite small in size, so you won't be having any problems with carrying it around. Not to mention that it features 4K recording and full HD streaming. However, what sets it apart from other products is the ability to stream from anywhere through Wi-Fi or LTE, which makes it optimal for IRL streaming.
With such fancy features comes a high price-tag as well. So, best be prepared for your wallet to be a lot lighter after buying this webcam.
Logitech HD Pro C920
We just get have enough of Logitech, can we? It seems like all the Twitch streamers are aboard the Logitech boat as the company has something in store for everyone. Ali-A, FaZe Rain, and Daequan are just some of the many Twitch names who stream using this product.
Similar to the other Logitech siblings, this webcam offers 1080p video output at 30fps. However, if you really consider frame-rate to be important, you should probably opt for Logitech's other models owing to the fact that this one does not provide 60 fps even with 720p video output. With that said, the webcam best redeems itself through its automatic low-light correction and AutoFocus features. In addition, it also comes with 2 built-in stereo mics along with automatic noise reduction, which is great because noise canceling yourself can be time consuming unless you have a good editing software.
New Webcams
Gotta stay up to date, right? In this section, you'll find relatively newer webcam, or selection of webcams that are destined to take the spotlight in the near future.
Aukey 1080p Webcam
Beggars can't be choosers? When buying a webcam for streaming, they definitely can. This is a cheap webcam with a functionality of a midrange model. Perfect if you have a low budget and high expectations.
This Aukey webcam is the gold standard of value for money recording equipment. Just because it's cheap doesn't mean you'd have to compromise completely on the camera quality.
This product provides high-definition 1080p recording and streaming, which is amazing considering the fact that it costs way less than the other products in this article. It also includes the best of the extra webcams features, a built-in stereo microphones, how good is that!
On the downside, the webcam does not feature any noise reduction software and could start acting up under low-light conditions. However, If you are a gaming and want to get streaming straight away, this webcam is the best buy for you.
Words bore some people. So, if you're more of a visual person, you can check out the following video about this webcam.
Razer Kiyo
The makers of this webcam are famous for their range of gaming equipment, including keyboard, mouse, and headphones. However, what most people don't know is that they also have a high-quality webcam in the market aimed directly at game streaming. A well-renowned Twitch streamer, namely Kenith, embraces everything Razer. You'll see him using this product to stream/record all his stuff.
After that touch of social proof, it's time for some specs. Razer Kiyo is a full HD camera that is capable of recording up to 60fps at 720p and 30fps at 1080p. So, you'll notice a bit of decrement in the video quality if you're comparing it to Logitech BRIO – Ultra HD. But if big names like Kenith are using it and becoming successful, so can you.
Besides, it covers up its flaws with a built-in, adjustable ring light, which helps for making you look better on your stream.
This razer webcam also features Auto-Focus and is compatible with streaming software such as OBS, XSplit, and StreamLabs. The company markets this product as a streaming webcam for gaming. Therefore, it is sure to satisfy all your streaming needs.
Top Pick
Considering the level of interaction and engagement live streaming offers, it's a must to invest in quality webcams, and the Logitech BRIO – Ultra HD comes out as the clear winner here.

Even though the webcam mount provided doesn't really do its job – bad for thick laptops and wobbly on thin ones; there's a lot to admire with this webcam.

It features 4K at 30 frames per second (4k 30 fps), which is perfect for YouTube live specs.
It provides a realistic effect with a 1080p resolution at 60 frames per second.
It has excellent HDR lighting adjustment capabilities, making your subject look fantastic on camera.
It has a panning function and multiple filming angles without the need to move the webcam.
It comes with noise-cancelling mics.
It has an embedded tripod thread if you don't like the clip.
It has a background removal function.
It's no wonder big Twitch live streamers like Ninja, Tfue, Sceptic, and CouRage rave about this webcam. So, if you're looking for a good investment, we highly recommend this webcam.

Despite being a bit more expensive, the features and quality it provides in return will make you glad you bought it.

Something Extra!
Not everyone has the same taste-buds. If you just don't like working with a webcam, or have a very personal grudge against them for some reason, let's introduce you to a camera you'd fancy.
Sony a7R II Camera
If professional quality is your top priority, then this camera is definitely for you. Sony a7R II Camera features 4K video recording and a 42MP Full Frame sensor.  In addition, its high-quality AutoFocus technology is as fast as Tfue's quick-scoping. You won't need upgrades any time soon as it already offers almost everything under the sun.
Taking into consideration all its features, no wonder why the King of Youtube, Felix Kjellberg (or better known as PewDiePie), has chosen this camera. Not only him but other big YouTubers like Markiplier and jacksepticeye use this product as well. Although the camera can be a bit expensive, you can couple it with a Sony 24-70mm f/4 Camera Lens to give your videos a quite premium look.
Like the idea of this combo?
Conclusion
There are two types of people on this planet: streamers and non-streamers. The former being the ones who stream on a regular basis and the latter who have considered streaming but thought it was too big of a hassle to start their own streaming channel.
If you happen to belong to the latter category of people, VloggingHero is here to save the day. We know that having a webcam and/or camera is key to streaming and those who think otherwise are… subjectively wrong. In this day and age, even beginners have access to a high-quality webcam and cameras.
Other than that, there's no reason why you should hide that beautiful face of yours. Accordingly, this article suggests candidates for the best webcam (and even one camera) for each individual out there so that you don't have to spend too much of your time looking for one yourself.
Got any other camera in your mind? Feel free to comment it down below.
Click to see more camera articles
If you want to watch a review video, by a YouTuber call 'Late for the Show' showing some webcams, here you go.