To make serious money on YouTube in 2019 you should know the the top ways that YouTubers are making money, and figure out how you are going to leverage that?!
In this article
Proven ways to make money from your YouTube channel
This article will guide you into the most effective ways to leverage YouTube to generate different revenue streams, if, your execution is done well!
So, let's get to it.
How to Make Money as a YouTuber
You'll benefit from having a good strategy for making money on Youtube and please think beyond Google Adsense, it is good to understand it, and how to maximise it, but there is so much more.
Consider the techniques below and find out which one will leverage your strengths and which one best applies to you and your YouTube channel.
1) Be an affiliate
This is the Number 1, numero uno, way of making money online. It takes 5 mins to setup and you potentially can quite your job in 2 months. (that is usually how long it takes to start getting your money paid out)
What is affiliate marketing?
This is helping companies sell their peoples products in exchange for a commission by directing your audience to their store. There are so many guys doing it on YouTube, and making a killing!!!!!!
Have you ever watched an 'unboxing video', a 'review video' or heard someone say, 'check out the link in the description below'. This is probably a link to a product where they will get commissions.
How do you do it
You can start off with big companies like Amazon. They have a wide range of products to chose from and most importantly, people trust amazon, in digital marketing jargon this means the 'conversion rate' is high.
Amazon also has a very easy user interface that helps you track your affiliate commissions. See below.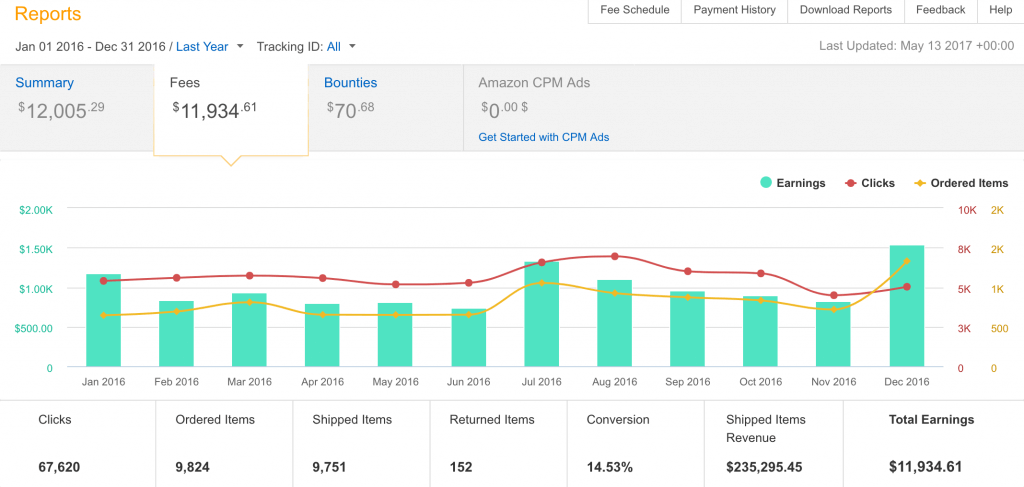 You sign up for an amazon associates program, and then for any product you want, you can get a link, you stick it in your description.
And affiliate link looks like this https://amzn.to/2k4LACS this one happens to be a pair of Panda pants, the lowest rated amazon item I could find.
If any person that clicks on your amazon affiliate link in your YouTube description and buys something within the next 24 hours, you get a small commission normally about 5% (I would receive $1 commission for the $20 Panda pants). This can really mount up when you have a lot of clicks.
Let me quickly list how you can maximise your money from this:
You have lots of traffic who would likely click on your link
Your videos are about the specific product and therefore more people are likely to click
The product in your video is high value and will generate more commission
You say something interesting about the product that further encourages people to click on the link
2019 New Tip
This is something that I only caught onto this year and I think it is brilliant. It is called 'Kit'. See Kit.com. What it does is collect all the items you want to link to, for example lets say you talked about your amazing mountain bike setup, you could put all your links in the one place, it is perfect.
I have to thank Harris from Alpha Gaming for this, it was on your channel I noticed it first.
Other affiliate companies
There are thousands of companies that offer their own affiliate program, the commission may be bigger and the time to purchase limit, or the 'cookie' duration. If you didn't know before a 'cookie' is what tracks that the customer came from your YouTube Channel.
In Amazon you only get 24hours, however some companies will give you months, so if that same person clicked on your link, and bought in 20 days, you will get the commission.
Next time you are on a website, take a look at the footer, look for where it says 'affiliate' or 'partnerships' and you'll get more information about their commission structure. Below is the footer of the company 'Best Buy'.

Affiliate networks
See affiliate networks such as ShareaSale and ClickBank. They are just market places where you find products or services that people will give commissions on. You will find a lot of garbage people want help selling. Try to not sellout for high commission garbage. It is so important you keep your authenticity.
On your Youtube channel, be honest but persuasive reviews of the products you recommend. The longterm trust is more valuable than the one-time sale. You already know this, I am just saying it out loud.
2) Make money with YouTube Ads
Pretty standard, but it has to be mentioned.
If you don't know yet, Youtube keeps 45% of the ad revenue you generate from your channel. The good part is that you keep the other 55%. The value of your ads are dependant on the content and your audience.
What is my audience Value
Google use a bidding system, which basically means that the price of your ads are based on how much advertisers are willing to pay for certain types of content and keywords. For example, if your audience are likely to spend money, and spend it quickly, then your ads will be worth more.
On top of that, it is very useful to be aware of 'buying keywords', these are words that people type when they genreally want to buy something very soon.
For example, words like best, cheapest, top, buy. it sounds really simple, but people use these keywords when they use google, we all do. And you'll notice this is what many product review YouTubers use for their video descriptions.
Best – People often want to see the top item, read a review or two then buy. This is dependant on the price point however, if the object is very expensive then it might not be an instant purchase and the advertisers will not get the direct ROI on that ad.
Cheapest – people know what they want, and just want to watch a video or read an article to see if they can save money last minute before buying it. They will most likely click on the next link they see to buy once they are satisfied they are getting a fair price.
Keywords importance for making money
You can actually tailor the keywords/topic of your video to attract higher value viewers (from an advertising perspective). And there are tools out there to help you with this.
See the diagram below with an example of an expensive keyword and how it changes as the keywords change. The column shows the cost per click on google Adwords, this is not quite the same as YouTube Ads.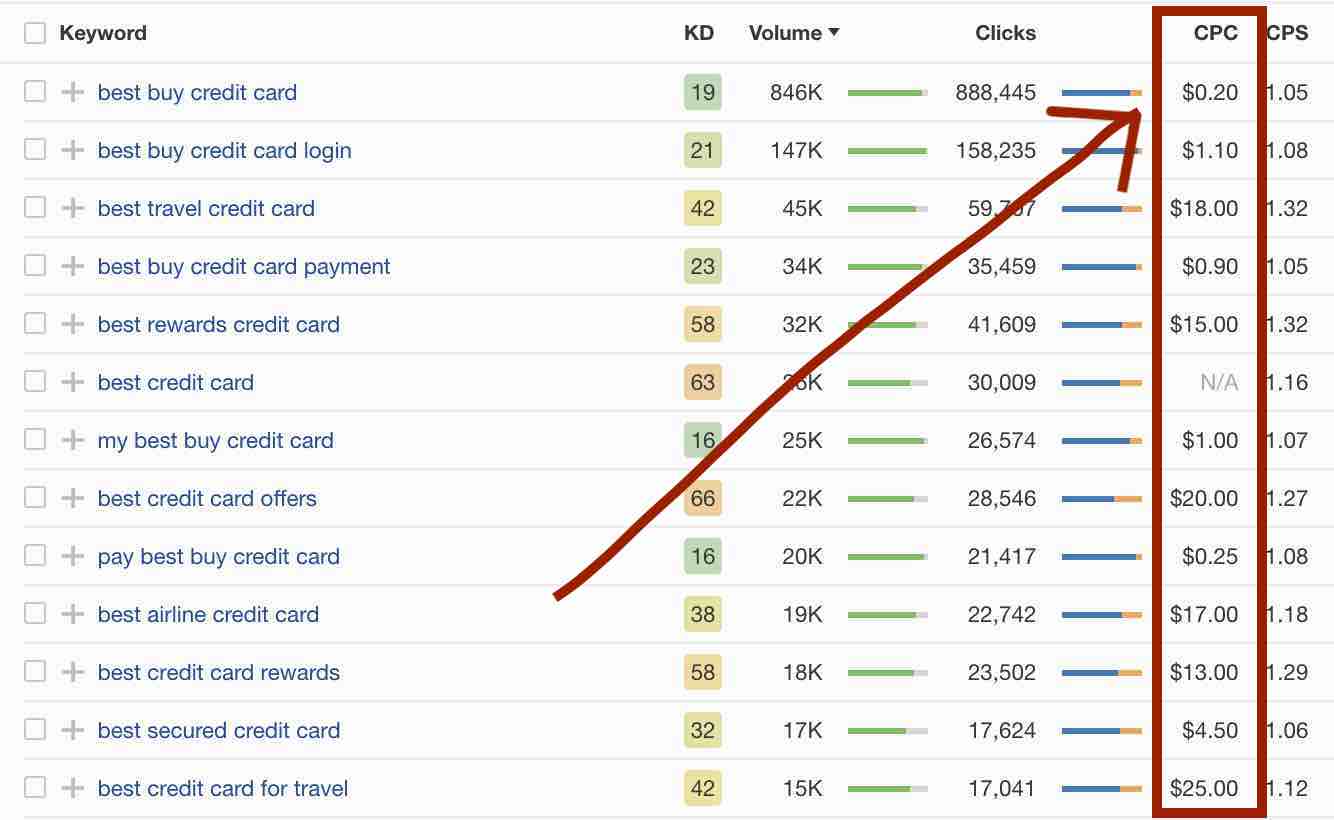 This is a bit of a marketing hack you can use to plan your content to maximise the Ad value potential. In this image we are using Ahrefs Keyword Tool.
This is a good practice for knowing the value of the keywords you are targeting, this may help you to choose video titles, meta-description opening sentence, keywords in your videos etc. This is a really good thing to do, from a financial perspective.
3) sell your own products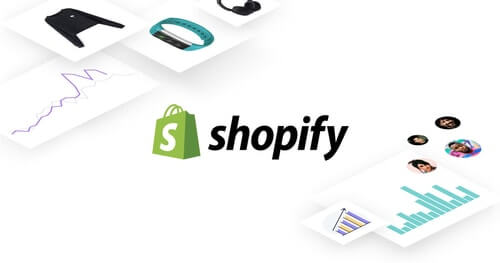 Use your YouTube Channel as a way to get a product in front of an audience and give them an easy way to buy it. Shopify is perfect for E-commerce newbies.
And if you thought products and E-commerce websites were out of your skill-range, think again, it's now easy!
It's all done for you, the purchasing, the basket, the order forms, shipping updates to the customer, notifications etc. it is brilliant, there is a good reason why they are leaders in their category.
Click to check out Shopify.com
3.1) Make a product for your existing audience
Create a product to sell to your existing audience, maybe this is not something you thought of when you started, but this can be where you really make yourself proud by crushing it with business that sells real products.
Sell something that your audience will like, it doesn't need to be new, and if you don't want to handle it all on your own, you can partner with a small company and put your name on a product, see ninja's mouse, or Pewdiepie's chair, this is high profile examples of this.
You can also make videos about your product. Make engaging videos on a products and then promote, promote, promote! Add a link in the video's description that will bring your audience to your Shopify store.
3.2) Dropshipping
What if I don't have a product to sell?
There is a way to sell products that are not yours, this is called drop-shipping, and when done well, you can make a fortune, you don't even need YouTube, but you do, you will sell even more. Try this audiobook to learn in the car.
How it works is that you sell products on your store, with a normal markup, and when someone buys from you, the order is placed with a supplier who will deliver to the customer on your behalf.
This is a really good way to make an income, but you'll probably need to do a course, the principles are easy but you may need someone who has done it before to hold your hand through the setup.
4) Use Sponsorships
Instead of relying on ad revenue, you now have advertisement and sponsorship fees to add to your revenue streams. See below Ninja the gamer holding a Red Bull.
Once you've gained a following, you are now attractive to sponsors.
You can now get some sponsorships and advertisements and the good thing is that it can be lucrative because brands have deeper pockets and are much more open these days in working with influencers.
This is a big area and we have several articles on branding to increase your value, what is really important is how sellable you are, meaning how easy is it to justify paying you lots of money.
It is all about how niche specific your audience is, how popular you are are, and how well you conduct yourself on your videos – brands don't want negative association.
Then you have the negotiation aspect, justifying value, setting deliverables, if you are new to this, maybe it is better to get an agent.
See our article with the how YouTubers do better with an agency.
5) Become a Keynote Speaker
If you have a following, you speak well and are within a particular niche. You are going to be invited to events as a speaker.
Leveraging your Youtube platform and getting some lucrative speaking gigs can help you rake in good money, travel to different countries for free, at the same time generate more fans and build your reputation further.
This is Edward from VloggingHero at DMSS
A few speaking gigs annually are more than enough to boost your personal brand, add credibility, make connections and generate a significant amount to leads to your business.
6) Crowdfunding
One of the most underused ways to monetise your engaged Youtube audience is to seek their help for your next creative project through crowdfunding.
Of course, you need to have a creative project.
When you have many people backing a project, strangers on the crowdfunding platform like Kickstarter and Indiegogo will see the popularity of your idea, and be attracted to you, your YouTube Channel and your product.
If you are not sure about what Kickstarter is click here or the image.
There are actually a couple extra benefits from getting your project on these crowd funding sites.
1) You can gain more subscribers, because of the level of traffic and interest on these crowd funding sites.
2) For any digital marketing fans who have an interest in Facebook ads and directing people to you or product, you can place a Facebook Pixel on your Indiegogo page, meaning you can re-target them later with an advert. (got this tip from DMSS digital marketing conference 2019)
WTF is a facebook pixel? – It is a bit of code that allows facebook to track all users who are logged-in on facebook on the same browser, so this means that you have a target group of people to show ads to, if you wanted to do that.
7) Create your own Web TV series
If you want to be the star of your own web TV series, then unleash your creativity and create a fun and engaging web TV series. This is your showreel for getting noticed.
It's like having your own Netflix Channel. What's important is you plan out the series well and be consistent so that you can have regular subscribers checking out your new episode.
You should invest in a great video camera and hire a great videographer but to be honest, all you need is to be entertaining and consistent with your videos.
8) Teach your audience for Money
YouTube is an excellent platform to monetize your knowledge and skills. The way to do this is to teach others through online video tutorials, make money through one time fees or subscription based.
You can set up your own website, and make the videos, sales sequences, sales funnels. Or you can put your videos on an online learning marketplace like Udemy. If you don't know what these things are, you should learn. It is so important to learn this stuff. See the below resources.
The important thing to do here to make sure you speak clearly and explain things well. Remember, the people who will want to watch you are likely to be beginners, so take your time in explaining things well and making sure they can follow.
The more they learn, the more engaged they will be and they will recommend your channel to others.
Once you have an established channel with a good amount of following, you can re-purpose the videos in your channel and create a paid online course outside Youtube. The possibilities are endless!
9) Build your Email List
You can use YouTube as a platform to generate leads towards your email list.
Email lists are valuable when you know what they are interested in, and you have something you can sell them later. There are good services that make it easy to store and send emails to your list, one of them is called MailChimp.
Give them something for free
And the best way to get them is to give away something for free, that you send to their email list. The most common things are: information, your top 10 list, a guide on how to do something, free access to your webinar, things like that. An easy swap.
Then once you have a list, you can send them offers for things that you know they will be interested you can promote your products that you sell on Shopify.
Always have a call to action in your videos and in the video description. Have only one instruction! In this case, if your purpose is to build your email list, then your call to action could be "click the link in the description box to join my email list" or get the 'free thing'.
10) Branded Merchandise
Part of your work as you grow your Youtube channel is to grow your brand. You should have a distinct logo, tunes and of course, personality.
Once you have a strong brand, you can start making branded merchandise and sell it through your Youtube channel. This is happening on a big scale on Twitch, this is huge, and we might see YouTube going the same way in the future.
You can start selling shirts, bags, and other branded apparel and merchandise. Be creative and find out what your audience likes. Make it easy for them to purchase by making the purchase process smooth and allow for easy payments such as Paypal.
11) Be A Product Reviewer
Why not make your entire channel about reviewing products.
This is making money from sponsorship and/or affiliate. Affiliate you can do from the very beginning, sponsorship you need the recognition from brands.
Of course, the best kind of reviewer is the impartial one, meaning, your audience will trust you for your objectivity and honesty. So do some good ones and bad ones. Just make sure you have your affiliate link in the description and you tell people to use it.
The truth is that people trust other people's recommendations more if they are seen as an authority in the niche and is seen as trustworthy. So build your brand to grow your authority and to build trust.
12) Publish a book
Once you have created a library of content on your Youtube channel and have a good amount of engaged subscribers, you can use the existing content and repurpose it into an Ebook or a physical book.
Especially if your content is unique, or if you are an expert in something, you viewers will appreciate the content, it is the reason they followed you in the first place.
Repackage your existing content
Another thing I have learned from many well-know bloggers and educational YouTubers, they use all their existing content and put it into a book, and even though they could get most of the info from your site, it is really useful to have it in a book.
This is specifically relevant if your videos are educational in nature and the wisdom and experience you have shared through the videos can be recreated in the form of a book or collection of books.
YouTube Financial FYI's
If your content is sexually suggestive, violent, uses inappropriate language, promotes drugs or is in the realm of controversial and sensitive content, then it is unlikely advertisers and brands will want to approach you. It might bring you attention but may harm your earning potential.
Reaching the monitization points
Activating monetization feature on Youtube would need first a minimum of 4,000 hours of watch time within a period of 12 months and also your channel has to have a minimum of 1,000 subscribers.
Additionally, you need to earn at least $100 before there can even be a payout. This is becasue there are 400hours video added a minute, and YouTube (and everyone else) are sick of spammy content, and won't be paying out to them any more.
Becoming a Youtube personality is difficult and only a few lucky individuals manage to become a Youtube star. Nonetheless, sign up with Youtube's Partner Program to make sure you can monetize your channel.
It's also important to optimize your metadata, properly writing the titles, tags, and description of your videos.
After that, it's time to promote it regularly in your social media platforms such as Facebook, Instagram and Twitter as well as your own website.
One thing to remember about Youtube is that it's the biggest search engine next to Google, and that your videos will appear in google too if you optimise them correctly!
Final thoughts
Monetizing your Youtube channel will take a lot of hard work and great content. It's important that you promote your videos and encourage your followers on other social media platform to support your Youtube channel.
Be patient and deliver solid content consistently and you're bound to generate trust in no time. To build trust, always remember to give, give and give.
Be you and be authentic, best of luck!