GoPro has changed the action camera industry. When they announced an affordable waterproof camera that takes high-quality videos, for the first time, we actually believed it.
People continue to use GoPro for a long time because they are so durable that unless you lose them, they last forever. Therefore, many people are still rocking the Hero 5 from 2016, Hero 6 models released in 2017 and Hero 7 (the newest model) from 2018.
Even I still have a Hero 4 with a horrible looking housing in a shoe box somewhere.
Like Apple and Samsung's never-ending copycatting, cheaper camera companies have caught up by copying technology and providing a really good value GoPro alternative. So, if you want to pay less for a camera with a similar GoPro style and quality, we made this list to help you choose the best GoPro alternative.
Quick Overview: Top Choices
When buying GoPro alternatives, you're either getting more for the same amount of money or similar performance for cheaper. There are also some terrible ones, to stop you making that mistake, here is my shortlist for the best GoPro Knockoff:
Premium GoPro alternative – Sony FDR-X3000
Sony's flagship action camera offers arguably the best performance of all action cams, but because of its pretty high price, it's not the most affordable one. Even though the price is about the same as the GoPro's HERO 7 Black, you're getting more bang for your buck, so I consider it a smarter buy. It was launched in 2016 and hasn't stopped being a serious GoPro's contender.
Best cheap alternative- Campark ACT74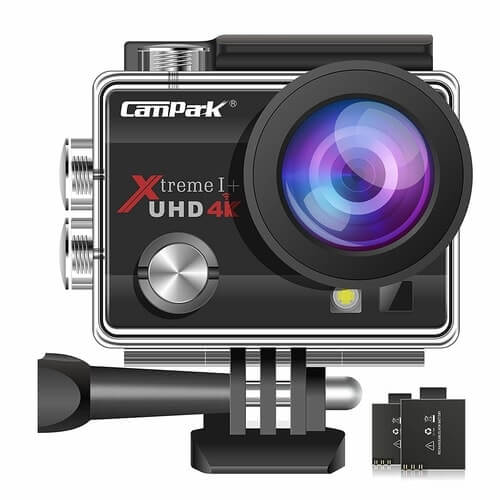 Its specs seem especially impressive, you're getting a waterproof device that shoots 4K wide-angle videos, looks like a GoPro and its crazy cheap. The only downside based on customer reviews is that it resets the settings when you take the battery out which people really don't like based on the 1-star reviews. It's up to you if that problem is worth spending a few hundred extra dollars on an alternative.
Ultimate value for money- AKASO Brave 4
I think that by buying this camera you're getting the best performance and quality for the money. Since the release of this product in 2018, it has continued sitting on Amazon's Best-Selling list. This GoPro alternative is rather affordable, but still offers an impressive set of hardware, allowing you to easily record your next big adventure- up to 30m underwater!
GoPro Alternatives – the Full Review
Now that you know what my top picks are, I'll let you make your own mind up about which are the best GoPro alternatives for you. The detailed reviews are below.
Sony FDR-X3000
This is my premium pick. It offers great performance and it is still somewhat cheaper than the GoPro Hero 7 Black. Since its launch (2016) the camera has been compared to the GoPro's newest devices- both the HERO 6 and 7 which were launched in 2017 and 2018 (and that says a lot about the quality of this camera).
Sony's camera ensures great (and by many considered better than the GoPro's) photos and videos, but it is also known for its crystal-clear audio and high build quality. It's yet to be seen how this camera will compare against the new GoPro set to launch in September 2019.
The device itself is splash-proof, but with the included housing you can dive up to 60m. Both the housing and the camera are well-made and durable. The body is made of white, glossy plastic and is rounded like a camcorder; therefore, the device is easy and pleasant to hold.


Now, for the most important element – the video. You know that it consists of image and audio, so in order have a high-quality video you need to nail both elements – and that's what Sony did.

The image is crisp and clear on this action camera as it combines the 4K sensor with SteadyShot.

You know the qualities of 4K video, but what's SteadyShot?

It's Sony's optical image stabilization (OIS) technology, which basically means that the camera sensor and the lens are connected and move slightly in a floating manner when the camera is shaken. The slight movement stabilizes the image, therefore making videos smoother than a baby's bottom and still photos extra sharp.
Almost every situation in which you use action camera (think: bicycle rides, rafting, running, skiing, skateboarding…) includes shaking and vibration, therefore adding OIS is a logical thing to do. However, no other camera on this list has optical image stabilization, and that's what sets Sony's camera apart from its competitors who stabilize electronically.
The camera shoots 4K videos and 12MP stills. It can shoot time-lapse and slow-motion video. The fisheye distortion can be corrected due to the adjustable field of view and viewing angle so you can choose from three modes for your video: Narrow, Medium or Wide.
The audio is great due to the built-in stereo microphone. There is also a wind noise reduction. If you wanted to, you could plug in an external mic because the 3.5mm jack is present- also something that makes this device special.
In the bundle, except the camera and the waterproof housing, you'll find plenty of accessories: a travel bag, an SD card with a case and an adapter, a tripod, a spare battery, helmet mounts, a flexible tripod, and a lens cleaning kit.
Unfortunately, the camera has no display, but you can buy the additional remote display or use your phone to see what you're recording if you don't plan on spending extra money. The action cam is, of course, connected wirelessly to your smartphone and reportedly the app is responsive, so no bugs or freezes should occur.
Campark ACT74

This is a great, affordable camera made by Campark, a Chinese company specializing in making photo and video gadgets. This model should by no means be called a professional or advanced action camera but is sure a great pick for people who recreationally indulge in sports activities and wish to record them without investing a significant amount into an action cam. It is inexpensive but still does everything an action camera should – it shoots videos, photos and it is compact and waterproof.
The camera looks similar to all of Campark's cameras. It's is a simple designed unit which can be encased in a durable, waterproof case made of clear plastic. The housing is included and responsible for the up to 30m waterproofness, so you don't have to worry when diving, snorkeling, water-skiing or surfing.
The video is better than expected considering the low price and affordability. The camera shoots in 4K and the video is 16MP and electronically stabilized.
This will come in great when zooming in or viewing on bigger screens – no pixels should be visible! Campark ACT72 uses Sony's sensors which are known for their quality and reliability. You can choose the resolution and framerate you wish to record in – therefore you can shoot in 4K @ 30fps / 2.7K @ 30fps / 1080P @ 60fps / 1080P @ 30fps, and because of the higher framerate, you can shoot in slow motion.
Besides the previously stated slow motion and normal videos, you can take great time-lapse vids.
The camera is connected to your phone via Wi-Fi and that enables you to seamlessly transfer videos or photos to your phone or share them on your social media like Facebook, Instagram, Twitter. Via the app, you also control video options like resolution and framerate.
Both the video and the photos are shot at 170° viewing angle, so many, many things will fit in. However, expect some fisheye distortion that you can't get rid of because the viewing angle isn't adjustable.
You can shoot 4K photos too. Their colors and quality are well above my expectations. I expected dull and grainy photos, but they were amazing! The colors were on point and all the photos looked neat and tidy due to the high resolution. Bear in mind that a device this small and this cheap cannot compare to a professional DSLR or a mirrorless camera that is multiple times bigger and multiple times heavier on your wallet, but still, it offers so much more than its competitors at the same price point.
The battery enables about 90 minutes of 1080P video being shot at 60fps, but two batteries are included- so just switch them and keep on recording 90 more minutes.
The disadvantages are the things many action cameras suffer from – distorted image and somewhat lower quality audio. It's hard to capture more detail without the constant distortion or constant panning.
In conclusion, this device offers great performance at this price point. Both the videos and images were better than expected, so you can't say this camera isn't a great deal.
AKASO Brave 4

Brave 4 has been widely celebrated as the best value camera there is. It is a bit more expensive than the previously described Campark but also offers better performance. Many people have compared its photos and videos to GoPro's (which is several times more expensive), and that really is a big thing for a device at this price point.
Something about the camera's design first. It is sleek and made of durable, matte plastic. It also has a screen, so you can always look at what you're recording. The screen cannot be controlled by touch, but there is a set of buttons you can use. To record underwater, you'll have to put the camera in the provided case. With the case, you can dive up to 30 meters and record what it looks like below the sea level.
The videos you record are shot in 4K resolution at 24 fps, but with a few taps on your smartphone, you can adjust the frame rate and resolution. Also, the viewing angle can be adjusted which is always great to have when you don't feel like having fisheye distortion on your videos.
You can choose between 170°, 140°, 110°, and 70° viewing angles, and bear in mind that the fisheye distortion will be minimized by lowering the viewing angle. Because of its unique video features and great quality, this camera's quality is often compared against GoPro's.
The camera has no OIS, but it has a gyroscope which significantly helps the camera stabilize and produce smooth videos.
The photos are 20MP and they look lively and sharp. They are not as good as the photos taken on a smartphone or a DSLR, but it's always like that on a compact, waterproof action camera. You can expect lower performance in dark conditions, but overall, in a well-lit environment, the photos always turn out clear, crispy and so much better than expected.
The camera can be commanded via a smartphone and they are connected by Wi-Fi, but it is also connected to the remote, which unfortunately isn't waterproof.
The remote comes in great when you want to record yourself from the distance but not come to the camera, walk away from it and then crop the video. On your smartphone, you can instantly send videos and photos from the camera and save or share them.
The camera's battery allows shooting up to 90 minutes of video. Two of these batteries are included so you can shoot two 90-minute-long videos. When the battery is drained, it takes 2-3 hours to charge it.
There's a lot to find in the packaging. Besides the previously stated (camera, case, remote, two batteries) you'll get a USB cable, various mounts and bases, 3M stickers, bandages, switch connections, an adapter, clips, ribbons, a user manual, a wiper, and a wire rope.
The Overall Winner
If you're ready to shoot an action video but are still mulling over our list, I'd say go for AKASO Brave 4.

What makes it our best pick?

Whatever outdoor activity you're into, this camera guarantees it can capture the action for you with its anti-shaking feature. Its built-in image stabilizer helps to eliminate the hazy effects created from the vibrations, making your videos clear and smooth.

Big on swimming? This camera also performs well underwater and can go 100ft deep while filming, thanks to its dedicated diving mode.

The 4k recording capability is commendable – being able to record up to 30 frames per second.

The camera comes with a ton of accessories, too. You'll be pleasantly surprised at how much you get for your money. And if you don't have any more room to wiggle around your budget for mounts and accessories, this fits the bill with its 19-kit bundle.

The Akaso Brave 4 doesn't come with an SD card, though. So, you'll have to purchase it separately. But, the bundle does come with extra batteries, which offsets the expenses of buying the SD Card.

At a fraction of the price of GoPros, the Akaso Brave 4 is the ideal alternative with its admirable performance.

GoPro Alternatives Buying Guide FAQs
When buying, you will ask yourself many questions. To help you a bit, we have answered some of the most asked questions about GoPro alternatives, hoping that we'll make your decision a bit easier.
Best 4K GoPro Alternative
All previously stated alternatives are capable of shooting 4K videos. Based on your budget and wishes, you can choose from many GoPro alternatives, but if you have a budget that you can almost buy a GoPro with, then Sony's FDR-X3000 is the best.
What makes it different from a GoPro (and every other action camera) is the optical image stabilization. The truth is, no electronic image stabilization can outperform optical image stabilization. When using OIS, your videos won't seem liquid and they will not have any weird waves. Just pure smoothness.

However, by choosing any other device on this list, you're getting satisfactory performance for a price significantly smaller than that of a GoPro.
Best for Underwater Fishing
Many people love underwater fishing and would love to show how they do it to others. Just think about this scenario: you're on a family gathering and you're telling a story about how you caught that MASSIVE fish. We actually have an article on underwater fishing cameras, if you are interested, click the link and check it out.
It seems too good to be true, and when things are too good to be true, most people don't trust them. However! You pull out your phone and show them what you did. Just think about the looks on their faces – truly priceless.

When picking a camera for underwater fishing, make sure it's small enough that it doesn't restrict your movement. It is also a good idea to search for a camera with a red filter- this way the image will appear less blue and much livelier (you'll know what I'm talking about if you're taken videos/photos underwater).
Is It Paying Extra Money for a GoPro?

Generally speaking, bigger and more popular companies' products are easier to fix and find replacement parts for. GoPro devices are the pioneers of action cameras; therefore, you're also paying for the brand itself. Because of their long legacy, it's easy to find accessories for your camera.

However, there's a lot of quite popular companies that produce action cameras and offer great help and flexibility in case of damage or failure. There are also some small companies that work hard to help their customers, so nowadays there really is not much that sets GoPro apart from its competitors. Just make sure to carefully read the product description and the producer's webpage – there you should find more info.
So, if brand matters to you and if you wish to easily replace any part of your product AND you're willing to pay more for it, then GoPro is better for you. But always remember – many other action cameras are easily fixable and still offer similar or better performance than GoPro – for less money.
What to look for when buying an action camera?
When buying, make sure to know what you're going to use your camera for. Check for the field of view, frames per second, waterproofness and durability, size, image quality, and extra accessories. In case you're not sure what these things mean, they are explained below.
Field of View (FOV) – extent of the observable world that is seen at any given moment. Basically, the bigger your camera's angle is, the more will fit into the image. When shooting at bigger viewing angles, the picture becomes distorted, meaning it will look curved towards the edges. This is why adjustable FOV is highly wanted – you can always opt for a smaller viewing angle and ditch the curvature.
Frames per Second – how many frames can your camera capture in a second. If you didn't know, video is composed of big amounts of slightly different frames, so bigger FPS rate results in the smoother video. Higher FPS rate enables smoother slow-motion videos, so if slo-mo is your thing, FPS is an important factor to consider.
Waterproofness, durability, and size make action cameras different from the regular ones. Every action cam should be durable but not everyone needs a device that can be submerged 30m underwater. As far as size is concerned, make sure that you can carry the device easily without restricting your movement. Generally, smaller action cameras are a better pick for most.
Image quality is a very important factor too. Most action cameras shoot in 4K, however, that may be overkill for many. When shooting in 4K, you will need a great SD card in order to save the video and a great computer to edit the video on. If your computer isn't strong enough, it will take forever to render the edited 4K video.
Also, due to the increased resolution, your storage may be filled up quickly. But the image should also be color-accurate and not grainy, so it's always a good idea to search for videos and photos taken on a device you're interested in buying.

To make sure videos aren't shaky look for a device with image stabilization. As there aren't many cameras with OIS, make sure the EIS does the job well.
Extra accessories are responsible for the ease of use of your camera. If they are not included in the box, make sure that you can buy them easily.
How Did We Make Our Decision?
We did not try every model out, because we'd end up with a pile of GoPro alternatives we didn't need. However, we read many webpages, comments, reviews and watched a ton of videos in order to provide you with the best list of GoPro substitutes. We hope you appreciate our work and that you find this article helpful 😊
"A YouTuber doesn't need to learn by trying everything. A wise YouTuber learns from the experience of others- it's much faster." – Vlogging Hero