Tyler Ninja Blevin's a full time twitch steamer for luminosity gaming and sponsored by Red-Bull, making over 500k per month by entertaining his millions of subscribers.
Lets check out Ninja's streaming set-up and why it helps him stay on top! Starting with the main equipment list then streaming and computer setup.
Ninja Main Setup
These are the more visible items on the gaming table, let's take a quick look then get to the details.
Ninja's Webcam And Cameras
Ninja uses a webcam and 3x Blackmagic cameras around his RedBull stream room.
 Logitech Business Brio Ultra HD  
Logitech's BRIO will give you a professional video quality at a reasonable price. What makes it so good is a combination of premium lens, high dynamic range, and sensor that captures movement in 4K.
RightLight 3 feature will make sure that image quality doesn't suffer in dim environments, as it will adjust exposure to fit your needs. BRIO also has a 5X zoom option that you can use to capture some hilarious reactions. And did I mention that it looks really cool?
Blackmagic URSA Mini 4K EF 
Ninja has 4 of these babies in his Red Bull Stream Room. These are powerful digital cameras that capture in 4K.
It has slots for dual CFast cards, which means that you will be able to record for much longer without needing to change cards. If you are ready to take it to the next level, you simply cannot go wrong with this.
Ninja's Mouse – what he uses
We have two different Ninja Mice. The Logitech G502 and the Final Mouse Phantom. Lets discuss the the Logitech first.
Logitech G502
It has the 16k Hero sensor, boasting 16k DPI (dots per inch) meaning this mouse is insanely accurate for gaming and not surprising that it is/was Ninja's mouse of choice for Fortnight. Ninja's Fortnite In-game Settings.  
This mouse has an advanced optical sensor for accurate tracking and less lag, and capable 400+ IPS(inches per second) which means that this mouse can handle insanely fast reactions, needed for the high level fortnight players.
Ninja's mouse has are adjustable weights, that you can position around the mouse for customisable weight distribution. How cool is that?!! 5x 3.6g weights that you can position how you like to customise the weight distribution of your mouse. It is 11 different buttons, that you can programme to do anything you need. Hyper fast scroll speed on the scroll wheel, made of metal and is as smooth as silk.
The Final Mouse Phantom 
This little Ninja mouse is ultralight weighing only 67g, if you are a high sensitivity fortnight player then after a few games of fortnight your wrists are really going to appreciate it. The other main selling feature is the phantom cord, less drag and light weight.
FAQ: How much does ninja's mouse weigh?
Final Mouse Phantom weighs 67g
Logitech G502 weighs 121g with customisable weights.
Control Panel
Ninja uses the following device to switch between his numerous cameras. Television Studio Pro contains 8 video and 4 audio inputs. This baby is usually used for television purposes, but it works equally well in an intricate streaming environment.
Ninja's Computer Monitor
Ninja uses an Alienware AW2518H.
Alienware delivers a truly impressive monitor. It has extremely fast 240 Hz refresh rate and 1ms response time, which combined create perfect conditions for high-speed gaming.
NVIDIA's G-Sync technology is present to eliminate screen tearing and reduce input lag.
As you can see, AW2518H can be completely adjusted to your liking, so comfort is set to the highest levels. It also looks pretty sexy, in my opinion!
Lighting
Ninja spreads some of these around his stream room to be clear on camera.
Microphone
Ninja uses the Electro-voice RE20. You can see it very clearly in his Red Bull streaming room.   And there is a second microphone on his setup, it looks like an Audio Technica dynamic microphone.   
Microphone arms are also an important accessory, and Ninja uses Rode's PSA1. This arm will completely stabilize your microphone, so you can be completely focused on gaming.
With it, you will easily be able to swing your mic and change its position at a moments notice. It can rotate full 360 degrees and has 33-inch reach.
If you don't have it in a good position, then your sound might be distant, have echos, reverb etc.
Remember bad sound is not tolerated by views, and they'll quickly move on, you'd rather loose video quality than sound quality. So its worth having the full mic setup.
Ninja's Groovy Headphones
In terms of quality, this brand can go toe to toe with the legendary Sennheiser.
DT 990 features a thick leather headband, Microfibre head, and is super comfortable.
The headphones are lightweight, so you can easily wear them for an extended period of time. They are flexible and have aluminum support which gives them added durability.
Sound quality is excellent, with strong bass frequencies. Ear cups are of open style and offer no sound isolation.
The ear-cups are the most interesting part, the grill type design, open style, noise leaking, no sound isolation. The 3m cable is not removable.
Ninja's Keyboard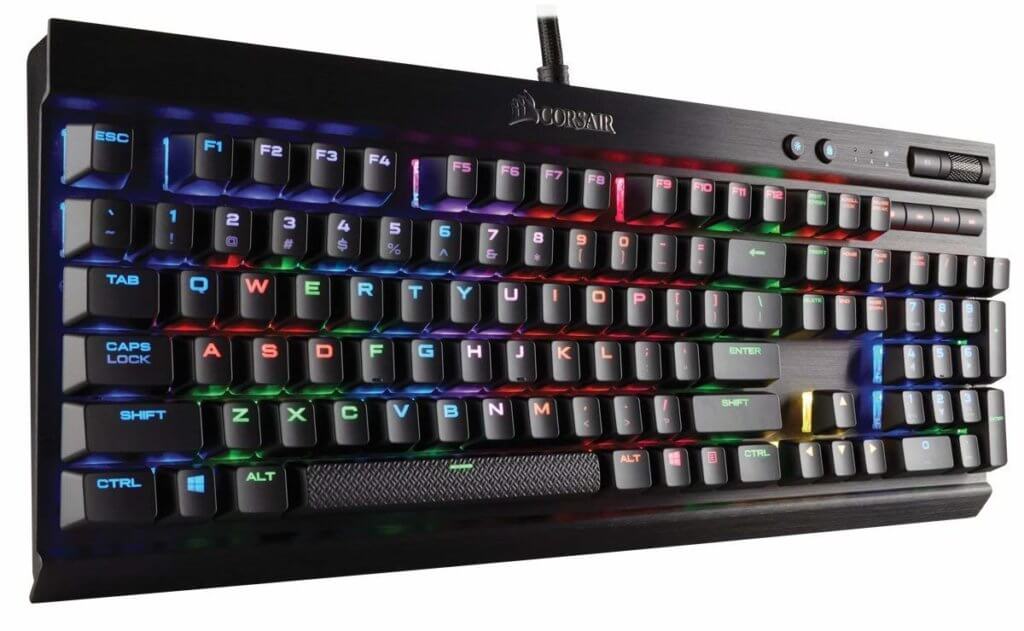 Ninja uses a Corsair K70 RAPIDFIRE
Quite expensive for a keyboard, over 100 bucks. Aluminium frame, 3 step brightness button. Textured WASD keys and space bar. Lets check out some of the details…
Gaming positives
Keys require less travel and less pressure, the switch actuation at 1.2 mm – instead of 2mm as with their other model and 46g of pressure required to press the keys. This means you save a few milliseconds, that may be the difference against good players and when you get down to the last 10 in fortnight.
Also the renounce of the key is super quick, This gives you that extra edge and speed, especially when you need to hit the same key multiple times.
Claiming 100% anti-ghosting, aircraft grade aluminium used on the key switches. Players using this keyboard also report their hands being less tired because it doesn't require as much effort to hit the keys.
Other useful features of the keyboard
Height adjustment in the front and the back Volume wheel, Windows lock button Soft touch detachable wrist rest The font is quite large on the keys but I think that is to let the coloured lights glow through
Downside
Only 1 thing really, It has a big thick cable, positioned slightly off centre to the left from the back. A bit annoying if you like to keep your cables easily discreet.
Ninja's Mouse Pad
He uses the Hyper X Fury Pro Mouse Mat.   These mats are designed for precision and speed, so their mat fibres are tight and have a high quality-control stopping annoying fraying that causes lag.
It is pretty stylish and coming in a range of sizes.
The underside is a rubber honeycomb structure, supper sticky and anti slide, so it doesn't move about and mess up your game.
Ninja's Sound Amplifier
CREATIVE SOUND BLASTER X7
Positive for gaming – scout mode – you can use it to amplify footsteps and background noise giving you a tactical advantage.
You will hear much more detail with the creative sound blaster, so if you are interested in being a fortnight pro like Ninja, then you should definitely look have something like this in your setup.
Matt finish, stylish and doesn't get fingerprint marks like shiny finishes do. Looks like it is out of star-wars, has a very 'Empire' look. Three holes
3.5mm headphone jack
1/4 inch headphone jack
And 3.5 microphone jack
You can use both headphone jacks at the same time Small downside, there is no visual indicator for volume, so you have check on your computer.
Ninja Computer Setup
Like most streamers, he has two setups so that the power drain from one doesn't affect the other. What you don't want when you are down to the last 5 on Fortnite.
Computer Processor
Computer is powered by an Intel Core I9 – 7940X Processor that is perfect for the intensive and resource gameplay of fort nite, and other games, that you need a high number of frames per second to have your game movement fluid enough.   
Graphics Card
Both computers feature EVGA GEFORCE RXT 2080 graphics card. This state-of-the-art graphics card can perform up to 6x faster, compared to the models of the previous generation. The card has 11GB of GDDR6 memory.
It has next to no latency when playing super-fast, resource-draining games. There is a real-time ray tracing feature which will provide you with hyper-real, breathtaking graphics. Designed for serious gamers
Main Board
His streaming PC utilizes TUF X299 motherboard made by Asus. It is designed specifically for the 7th generation of Intel processors in mind. Excellent durability is achieved with the use of military-grade TUF components.
This material gives a better temperature tolerance (about 20%) and up to 5x longer life expectancy.
There are 8 RAM slots, and the max limit is set to 128 GB of DDR4 memory, which is just ridiculous. If needed, TUF X299 will let you operate 24/7.
Ninja uses Maximus XI Hero on his gaming PC. Asus specifically designed this motherboard for the 8th and 9th generation of Intel's processor, so this greatly complements Ninjas CPU.
It features 5-way optimization that intelligently overclocks thanks to the smart prediction. Maximum XI Hero also has SupremeFX, which will provide you with the great audio.
Memory
Ninja uses 64 GB of RAM (4×16 GB) from TridentZ RGB series on both of his computers. It utilizes advanced SDRAM technology and has memory speed of 3,200 MHz.
Heat dissipates pretty quickly, so there is no fear of overheating. Overall, this is a really powerful memory that will not let you down.

Ninja's Case
NZXT H700i is a really cool gaming case from a licensed Ninja edition. It is made out of premium material (all steel) that also has great noise reduction properties. This case is water-cooling ready, so you can go crazy.
Installation is made easy thanks to the improved cable system. You can choose between multiple color options, so you will surely find one that suits you. With its unique look and good properties, this is an ideal present for every Ninja fan.
Liquid Cooling
For a configuration like this, liquid cooling is paramount. Ninja uses Kraken X62 made by NZXT, which will get you through most intense marathon gaming experiences.
It is also impressive on the visual side, thanks to the next-level RGB lighting. With Kraken X62 you are completely in the control, as you can monitor things like pump speed and temperature of the liquid. The radiator fans operate silently while giving you much-needed cooling with efficiency.
HDD
Seagate's Barracuda is an internal HDD with a 4TB of space. It's pretty affordable and does its function well.
SSD
A good HDD is useful, but the real power lies in solid state drives. Ninja uses Intel's 905P Optane SSD. It has 960 GB of space, but what's more impressive is the speed in which it does the work. Sequential reading speed is 2,600 MB/s, and writing speed is 2,200 MB/s, compared to the usual speeds of around 500 MB/s.
This baby will help you devour through hours and hours of your gameplay footage in lightning speed. It's a bit expensive, but it will save you plenty of time and nerves.

Power Supply
Ninjas gaming PC is powered with NZXT E850. This is a gold-certified gaming power supply with 850 Watt of power. For convenience, its design is completely modular.
Fans
Ninja uses AER RGB140 fans. They are compatible with CAM and HUE+, meaning you can easily control them and make customizations through software. They work almost completely silently and look visually stunning.
Chair
Since you will be sitting in your gaming chair for quite a while, comfort is of real importance. Ninja has a chair that is fully ergonomic and which encourages you to sit properly.
The backrest goes pretty high, so your whole back will be supported. The chair is made from foam material which will retain the shape even if you've used it for a long time.
The cover is made out of premium leather and is resistant against peeling and flaking. It is super adjustable and has a tilt mechanism which can be locked.
Red-Bull stream room setup
Check out this video by Red Bull construction his stream room.
Ninja's Fortnight Gaming Settings
Lets check out what gaming settings he uses for Fortnight, see our ninja settings and gameplay article for more details.
| | |
| --- | --- |
| Mouse Sensitivity | 0.07 |
| Mouse ADS Sensitivity | 0.60 |
| Mouse Scope Sensitivity | 0.40 |
| Window Mode | Fullscreen |
| Display Resolution | 1920×1080 16:9 |
| Framr Rate Limit | Unlimited |
| 3D Resolution | 1080p |
| View Distance | Epic |
| Shadows | Off |
| Anti-Aliasing | Off |
| Textures | Epic |
| Effects | Epic |
| Post Processing | Low |
| V-sync | Off |
| Motion Blur | Off |
| Show FPS | On |
The reason for Tyler Ninja Blevin is one of our vlogging heroes is because he has followed his dream, became good enough and interesting enough to attract people to watch him and generated his fame and fortune doing it. He is not the only one who has made it this far. Please check the setup of some of our other Vlogging Heroes.